Here's a recap of the Data Security & Privacy Seminar and Night at the Races | Smart Association - CHHMA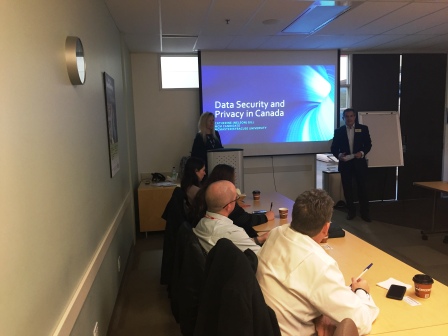 Data Security & Privacy Seminar
CHHMA and COPA held a seminar earlier this week which covered the topic of cybersecurity from the perspective of data security and privacy.
The presenter was Catherine Gill, a senior account manager within our industry who is also completing her Masters in Communications Management degree at McMaster/Syracuse University and is doing her Masters thesis on data security and privacy.
Catherine talked about some of the major cyber breaches that have taken place recently and what companies need to be on the look out for and what they should be doing to prevent these breaches from happening. Companies need to have plans in place which are tested and communicated and be prepared to deal with a data breach if one does occur. Catherine reviewed some of the stats and 46% of organizations within Canada have experienced a data breach of some kind.
Catherine outlined the new federal legislation (PIEDA - the Personal Information and Electronic Documents Act) that took affect on November 1st that requires Canadian commercial organizations to not only notify the Federal Privacy Commissioner of any data breach (personal information) but also keep records of it. Significant fines are in place for non-compliance.
Finally, the seminar touched upon some of the trust and transparency/human rights privacy concerns that organizations will have to address in the future in regards to collecting and utilizing data on individuals.
We would like to thank Catherine for taking the time to talk to our members about this important topic.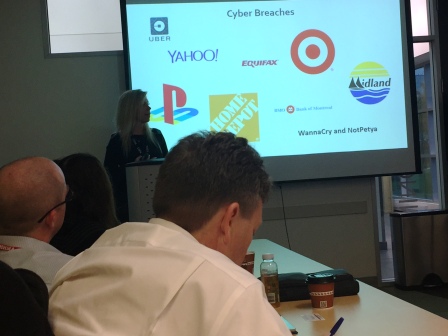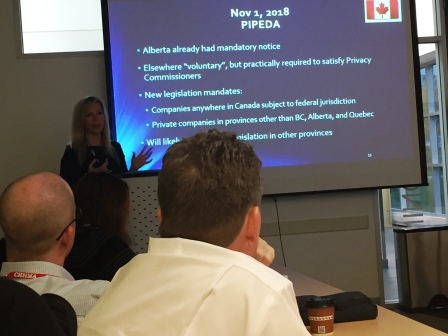 CHHMA COPA Night at the Races 2018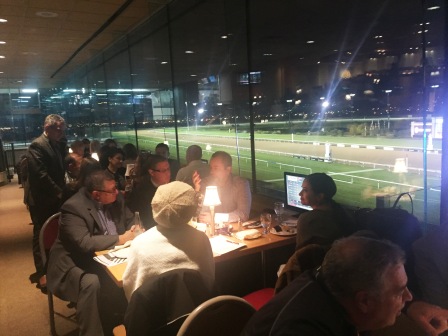 After taking a few years off, CHHMA's Night at the Races returned on October 24, 2018. This year we were also joined by members of the Canadian Office Products Association (COPA) on this fun evening at the "Favourites" Dining Room overlooking the track at Woodbine Racetrack in Etobicoke, Ontario.
Members, spouses and customers from the industry were on hand to enjoy some friendly conversation, excellent food and exciting thoroughbred horse racing at this top rated facility.
We were also joined by Anika Bartholomew, Daryl Morrison and Rumee Shrestha from Habitat for Humanity Canada. The CHHMA has recently entered into a partnership with this well known non-profit organization and look forward to working with them for many years to come. At this particular event, $10 per CHHMA attendee was donated to Habitat for Humanity Canada.
In addition to the regular track betting, CHHMA & COPA held a free point-based betting competition for those in attendance, with the top six point getters winning some prizes to take home.
In the end, a few skilled betters won some money on the night, others were not so lucky, but everyone had a great time and made some new acquaintances.
We look forward to holding this event again next year, likely in the summer time (June 19th is the tentative date), and we hope you can join us then!